Professional Development: Learning Opportunities: Calendar
2007 Summer Science Academy
A note from PROM/SE - -To all of the participants, instructors, planners and everyone associated with the summer academies, thank you for another great summer experience!
PROM/SE 2007 Summer Science Academy:
June 18-21 for SMART, Brecksville-Broadview Heights High School, 6380 Mill Road, Broadview Heights, Ohio
June 25-28 for High AIMS, Princeton High School, 11080 Chester Road, Cincinnati, Ohio
Aug 13-16 for Michigan partners (Calhoun ISD, Ingham ISD, St. Clair Co. RESA) East Lansing High School, 509 Burcham Drive, East Lansing, Michigan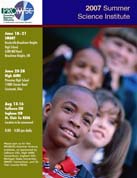 Science Academy Brochure (PDF)

prints best on 11x17 paper

Registration form (PDF)
Click here for course descriptions (Note - The course description for the High School Universe Course was updated on 3/06/07)
Please join us for the PROM/SE Summer Science Academy, co-sponsored by Calhoun ISD, High AIMS Consortium, Ingham ISD, Michigan State University, SMART Consortium and St. Clair County RESA. Spend time delving deeply within one content area in courses taught by experts in K-12 science education. Academy participants will develop a deeper scientific knowledge for teaching.

WHO CAN PARTICIPATE?
PROM/SE Science Associates, as well as teachers from PROM/SE buildings.
HOW DO I REGISTER?
To register, download the registration form, complete and send to your PROM/SE site representative as indicated on the form.
IS THERE A COST?
There is no charge to attend. A daily stipend of $75 will be paid to registered participants who attend the entire day and sign in/out.
HOTEL:
For those traveling more than 50 miles one way, please contact your PROM/SE site representative for more details.
CREDITS:
CEUs are available at no charge. Two university graduate credits (pending approval) are available for an extra fee. To be eligible for CEUs or credit, participants must attend the entire academy. University credit requires completion of extra assignments.