Professional Development: Learning Opportunities: Calendar
2006 Summer Mathematics Academy
A note from PROM/SE - -Thank you to ALL of the participants, instructors, planners and everyone associated with the successful mathematics institutes.
PROM/SE Summer 2006 Mathematics Academy:
July 31-Aug. 3 for SMART consortium

Cuyahoga Valley Career Center, 8001 Brecksville Rd, Brecksville, Ohio
Aug. 7-10 for High AIMS consortium

Princeton High School, 11080 Chester Rd, Cincinnati, Ohio
Aug. 14-17 for Michigan partners

Holt High School, 5885 W Holt Rd, Holt, Michigan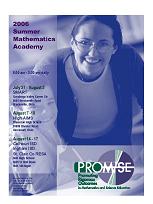 2006 Academy Goals
Please join us for the PROM/SE Summer Mathematics Academy, co-sponsored by Calhoun ISD, High AIMS Consortium, Ingham ISD, SMART Consortium and St. Clair County RESA. Spend time delving deeply within one content area in courses taught by experts in K-12 mathematics education.
Academy participants will develop a deeper mathematical knowledge for teaching in the areas of:
Pedagogy for teaching mathematics
Student learning and how students come to understand concepts and ideas
Development of content over time and through experiences.
WHO CAN PARTICIPATE?
PROM/SE Mathematics Associates, as well as teachers from PROM/SE buildings.
HOW DO I REGISTER?
Registration deadline is June 2, 2006 . Please register early as space is limited. To register, download the registration form, complete and send to your PROM/SE site representative as indicated on the form.
IS THERE A COST?
There is no charge to attend. A daily stipend of $75 will be paid to registered participants who attend the entire day and sign in/out.
HOTEL:
For those traveling more than 50 miles one way, please contact your PROM/SE site representative for more details.
CREDITS:
CEUs are available at no charge. University graduate credit (pending approval) is available for an extra fee. To be eligible for CEUs or credit, participants must attend the entire academy. University credit requires completion of extra assignments.
2005 Summer Academy participants said:
"I have had to develop my own explanations each year for division of fractions. After taking this course I have explanations deeply embedded that will benefit my teaching.
"As a high school math teacher who has participated in many professional development opportunities, this has been the best as far as mathematics covered and the pedagogical approach in my classroom."
"After attending the academy I am convinced that a format of math instruction that includes mathematical thinking, problem solving, and students explaining solutions will lead to deeper mathematical understandings for my students."